Offer Details
Name of Provider
First Star Scholars UK 2
Summary of the Offer
Social Media Administrator vacancy
More About the Offer
First Star Scholars UK are a signatory of the Care Leaver Covenant who have committed to supporting those who are care experienced.
First Star Scholars UK
are currently recruiting for a Social Media Administrator.
Salary: £20,311.20 (annual)
Hours: 36 hrs per week
Job Ref: FSSUK002
Length of contract: Fixed term 12 months
Location of job: available for meetings in south west and central London. During Pandemic and beyond expect to work mostly at home
This role is to support the Executive Director in developing
First Star Scholars UK's
online presence and the successful applicant will take the lead in
developing and managing
social media activity and online presence.
Applicants must have the experience and expertise to
enhance
First Star Scholars UK's
brand and build strong online communities through their various social media platforms.
Applicants who are care experienced are encouraged to apply.
Please find attached the job advert.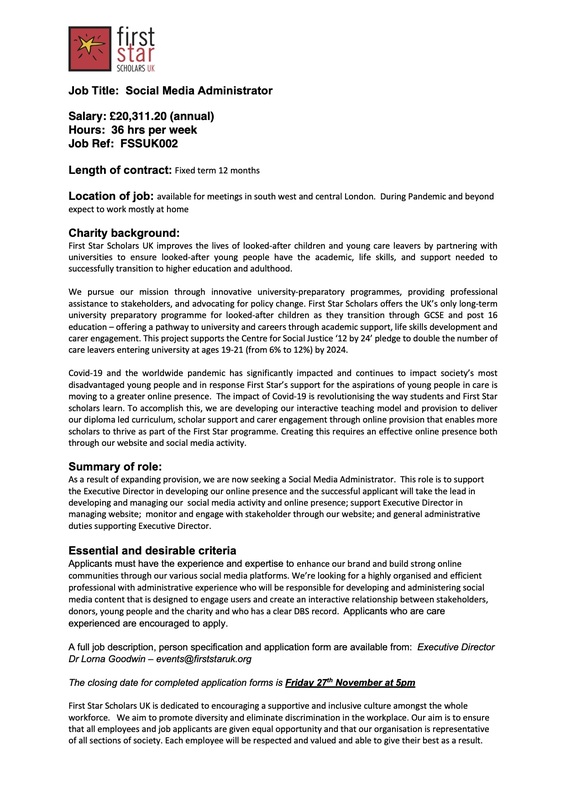 Offer Expiry Date
28 November 2020
How to Apply
How to Register
The closing date for completed application forms is
Friday 27th
November at 5pm
If you are interested in this opportunity, for a full job description, person specification and application form, please email Executive Director Dr Lorna Goodwin at events@firststaruk.org
Please inform Dr Lorna Goodwin that you are a care leaver who has heard about this opportunity via the Care Leaver Covenant.
If you apply for this opportunity, please notify the Care Leaver Covenant at connects@mycovenant.org.uk
Remuneration
Is this offer a paid offer?
Yes